Shoji Tabuchi Theatre Press Releases




November 2017

ショー ジ・タブチ劇場は2017年、5月31日の火災により今年中のシーズンはオープンにならない見込みです。

火災の原 因は舞台脇のバッテリーチャージをする場所から出火。幸い舞台近辺のみのダメージで済みましたが、煙及び水で消し止めるスプリンクラーシステムからの復旧 に時間を取られています。

しかしな がら順調に復旧作業も進み、来年はショージ・タブチショー30周年を迎える折、2018年5月開演を目標にご期待いただきたいと思います。

なお来年 のスケジュールは下記のサイトに提示いたしますのでご覧ください。

October 2017

THE SHOJI TABUCHI THEATRE

TO RE-OPEN SPRING 2018!

Due to the ongoing fire restoration at The Shoji Tabuchi Theatre in Branson, Missouri, The Shoji Tabuchi Family has announced today that they will be unable to re-open the theatre for the remaining 2017 season.

The Shoji Theater will be celebrating their 30th year anniversary and are so very excited and looking forward to performing again on stage at their theatre in the Spring of 2018!

We will be releasing our 2018 show schedule soon. Please check our websites shoji.com and christinalingotabuchi.com for our roadshow dates, as well as, all updates.

We want to thank everyone for all your continued support and understanding as the fire restoration is being completed.

July 2017

The Shoji Tabuchi family wanted to thank everyone for their support and patience through our fire restoration time ath the Shoji Tabuchi Theatre.

We are excited and looking foward to our re-opening date. As of now we are anticipating re-opening this fall of 2017. The exact date to be

announced at a later date.

May 2017

The Tabuchi family is releasing the following statement:

On May 31st, 2017 at approximately 2:00 am a fire broke out backstage at our theater. Due to this event, our theater will remain closed while being cleaned up and repairs are being made. We ask that during this process that the public respect the Tabuchi family's privacy and direct all questions to the management staff. At this time, we are anticipating the theater to re-open the middle of July and will resume all shows at that time. When we have a more specific date, in the very near future, once initial processing has been completed, we will announce a specific date at that time. Thank you so much for everyone's continued support, patience and understanding. We would also like to send a very special thank you to the Branson Fire Departments, Western Taney County Fire, Southern Stone County Fire Protection and the Branson Police Department for all their dedication and hard work in not only protecting our theater from further damage but, protecting all of us here in Branson on a daily basis.

December 2015

Shoji Returned from a awesome 2015 Christmas Tour!

December 2015

Shoji Tabuchi is very pleased to announce a BRAND NEW Christmas CD. On Sale now!

December 2013

The Shoji Tabuchi Show has brought the Christmas show on the road! It was an exciting success, all shows SOLD OUT! We are looking foward to visiting Plant City Florida and Myrtle Beach Feb/Mar-Check out our Tour Schedule

June 2013

Shoji Tabuchi Diamond Anniversary show – a sparkling Branson entertainment gem

Branson Tourism Center-Review, click to read more!


March 2013

The Shoji Tabuchi Show had a very successful February Tour. We performed 2-sold out shows at The Village's Savannah Center in Florida and another sold out show at The American Music Theatre in Lancaster, PA. We also had great success in Panama City Florida with great friends, The Raders!

"I am very pleased with Shoji and his show. It was a sell-out, and I am getting great comments from many who attended. Those venues who didn't book it, missed an opportunity. I'm sure I'll want to take a look at 2014 at some point."—James Martin, President/CEO American Music Theatre, Lancaster, Pennsylvania

February 2013

The Shoji Tabuchi Show again is hitting the road. The show will be on the east coast from Florida to Pennsylvania to New York.

December 2012

The Shoji Tabuchi Show has brought the Christmas show on the road! It was an exciting success, all shows SOLD OUT! Additionally,

"Shoji Tabuchi holds the all-time record for the most tickets sold, in the shortest time to the most performances at the Lutcher Theater in Orange, Texas. A class act, he brings our audiences out in droves every time and they leave asking when he'll return." –Jim Clark, Managing Director, Luther Theater, Orange, Texas

"After 22 years in operation, Shoji broke our box office record. I especially appreciate the generous amount of time he spent with our sponsors afterwards." –Bryan Lake, Executive Director, Piney Woods Fine Arts Association, Crockett, Texas

September 2011

The Shoji Tabuchi Show has again been voted a finalist in 417 Magazine's annual Best of 417 Readers' Choice Awards for Best Branson Show. Now through October 12, 2011 please vote for the Shoji Tabuchi Show at www.417mag.com/bestof! Click the link and scroll down to "Best Branson Show", vote then scroll to the bottom and answer the verification question, then click "Next", then you will go to another page, then scroll to the bottom of that page, answer the verification question, and then "Submit". After clicking "Submit" you have one more page , you do not have to fill your name, email, or address, and you can un-click the news letter list info if you wish. Then at the bottom of this last page, answer the verification question and click "I love 417 magazine!". The most votes wins!

June 2011

The Shoji Tabuchi Family and Show will air on TV Tokyo, TV Oska, and other local Japan Television stations June 14th 2011. Last month a TV Tokyo Production Crew visited Branson to document Mr. Tabuchi, Family, and the Shoji Tabuchi Show.

March 2011

The Shoji Tabuchi family very much appreciates all the thoughts and prays concerning Mr. Tabuchi's family in Japan.

We want to let you know that everyone is safe and we deeply appreciate your concerns.

Again, thank you very much.




February 2011

Shoji Tabuchi Theatre has been voted "The Best"
In 417 Magazine's annual Best of 417 Reader's Choice Awards

In the February 2011 Best of 417 Magazine

Best Branson Entertainer-Winner

Best Branson Show-Runner Up

August 20, 2009

Shoji Tabuchi Theatre's Restrooms Voted Nation's
Best For 2009
Branson, Missouri Theatre Wins 8th Annual CINTAS contest

CINCINNATI, OH – The finest restrooms in America are in the Shoji Tabuchi Theatre in Branson, Missouri - says the Internet public who cast online ballots in the 8th annual "America's Best Restroom" contest presented by Cincinnati-based Cintas Corporation (Nasdaq: CTAS), a leading provider of restroom hygiene products and services.
CLICK HERE to download high-resolution images of the winner.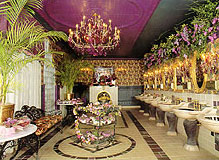 The 2009 contest attracted nominations from a wide cross-section of businesses, including restaurants, hotels and several theatres. Ten finalists were selected based on exceptional hygiene, style and open access to the public.

"This contest is meant to be fun, but there's also an important message, which is that restroom hygiene matters - for good health and good business," said Cintas Senior Marketing Manager Keith Hartman. "Cintas is proud to honor the Shoji Tabuchi Theatre, and we congratulate all of our participants this year."

Tens of thousands of votes were cast at the program's web site, which produced the following results:

1. The Shoji Tabuchi Theater, Branson, Missouri (Click Here)
2. The Tremont Plaza Hotel, Baltimore, MD (Click Here)
3. Radio City Music Hall, New York, NY (Click Here)
4. Zeffirino Ristorante, Las Vegas, NV (Click Here)
5. The Drake Hotel, Chicago, Illinois (Click Here)

Among the remaining finalists, those placing in sixth through tenth place are as follows: Macy's – Union Square in San Francisco, California; The Tampa Theatre in Tampa, Florida; NOVA 535 in St. Petersburg, Florida; The Fox Theatre in Detroit, Michigan and Canlis Restaurant in Seattle, Washington.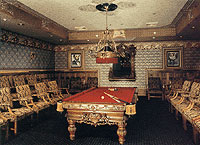 The Shoji Tabuchi Theatre received the coveted "America's Best Restroom" plaque of recognition from Cintas during a special presentation today, and secured its place in the "America's Best Restroom Hall of Fame" found at www.bestrestroom.com.

"We believe these restrooms are the most elaborate and ornate anywhere," says Theatre Manager Michael J. Frederick. "Each restroom represents 1,800 square feet of deliberate, one-of-a-kind elegance."

The Cintas Corporation created the Best Restroom Award in 2001 to honor businesses across the country that maintain exceptional hygiene, with style, in their public restrooms. Previous winners have included restrooms at Notre Dame University; The Grand Casino in Biloxi, Mississippi; Kohler Art Center in Sheboygan, Wisconsin; the Fort Smith, Arkansas Airport; Wendell's Restaurant in Westerville, Ohio; Jungle Jim's International Market in Fairfield, Ohio and, in 2008, The Hermitage Hotel in Nashville, Tennessee.

For more information about the Cintas Best Restroom Award VIII and the ten finalists, contact the Survey Editor, David Brandt, at 757-404-2032.

About Cintas Corporation
Headquartered in Cincinnati, Cintas Corporation provides highly specialized services to businesses of all types, predominantly in the United States and Canada. Cintas designs, manufactures and implements corporate identity uniform programs, and provides entrance mats, restroom supplies, promotional products, first aid and safety products, fire protection services and document management services for approximately 800,000 businesses. Cintas is a publicly held company traded over the Nasdaq Global Select Market under the symbol CTAS, and is a Nasdaq-100 company and component of the Standard & Poor's 500 Index. Fortune Magazine has consistently listed Cintas as a "Most Admired Company" in its annual survey for the past nine consecutive years.


3260 Shepherd of the Hills Expressway
·
Branson, MO 65616
Fax: (417) 335-8855

Email:

tickets@shoji.com





Show
Booking
Tickets

Media

Schedule

Gift Shop

Employment

Privacy Policy

Links
Shoji Entertainments Inc. Copyright 2017